Dentures
Conservative. Natural. Built To Last.
Call us for a Consultation, Exam, x-rays, and Cleaning!
Conservative. Natural. Built To Last.
Reclaim your quality of life by considering the benefits of dentures, which can restore your healthy bite and smile. When you are missing one or more teeth due to dental trauma, disease, decay, or age, your health and wellness is put at risk. Everything from how you bite, chew and speak can be become a daily hassle, and even smiling can cause you stress! When one or more missing teeth are interfering with your daily life, speak with our team at Riar Dental to decide if denture treatment is right for you.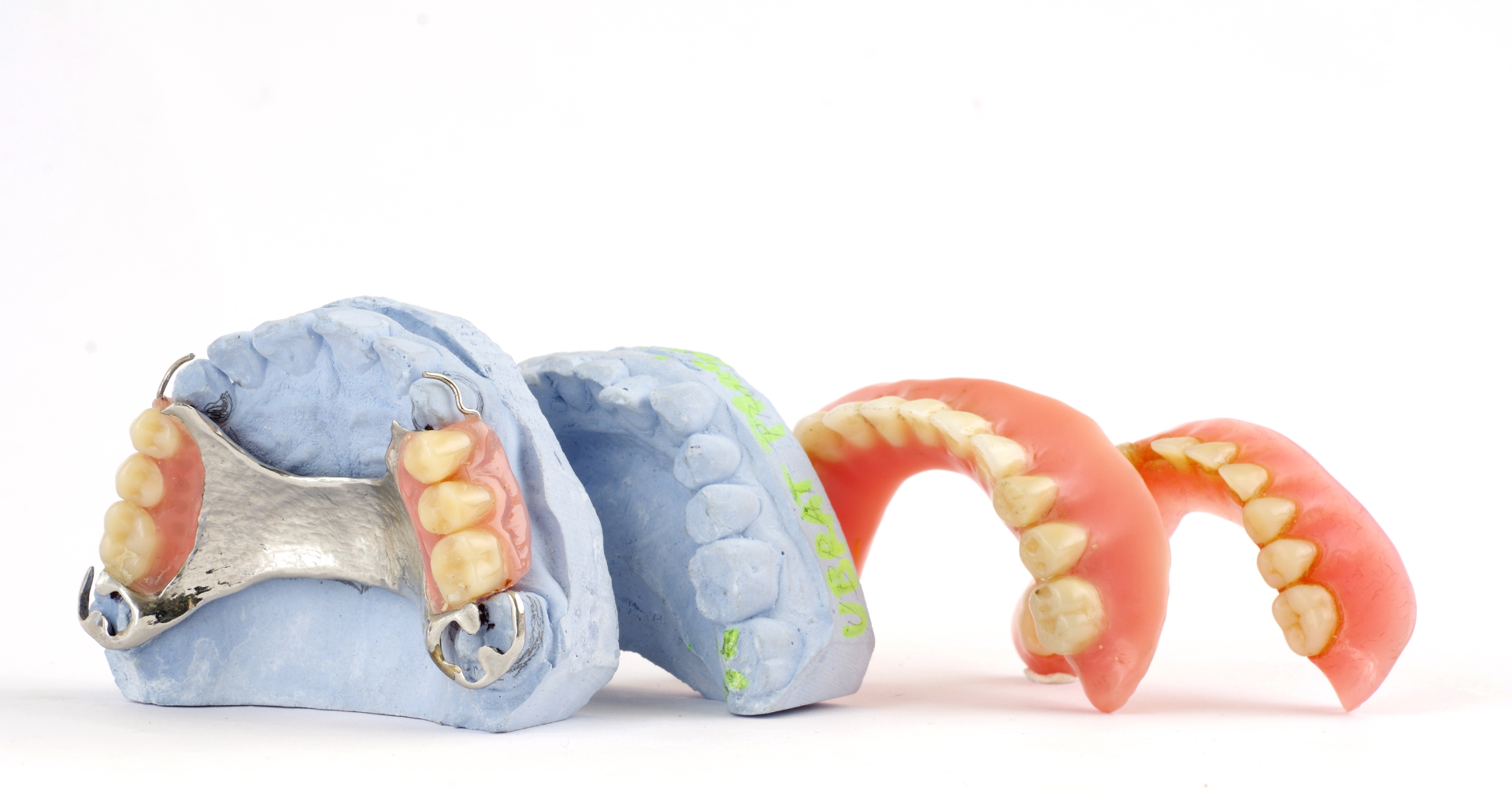 What Are Dentures?
A denture is a removable replacement for missing teeth and surrounding tissues. Two types of dentures are available — complete and partial dentures. Complete dentures are used when all the teeth are missing, while partial dentures are used when some natural teeth remain.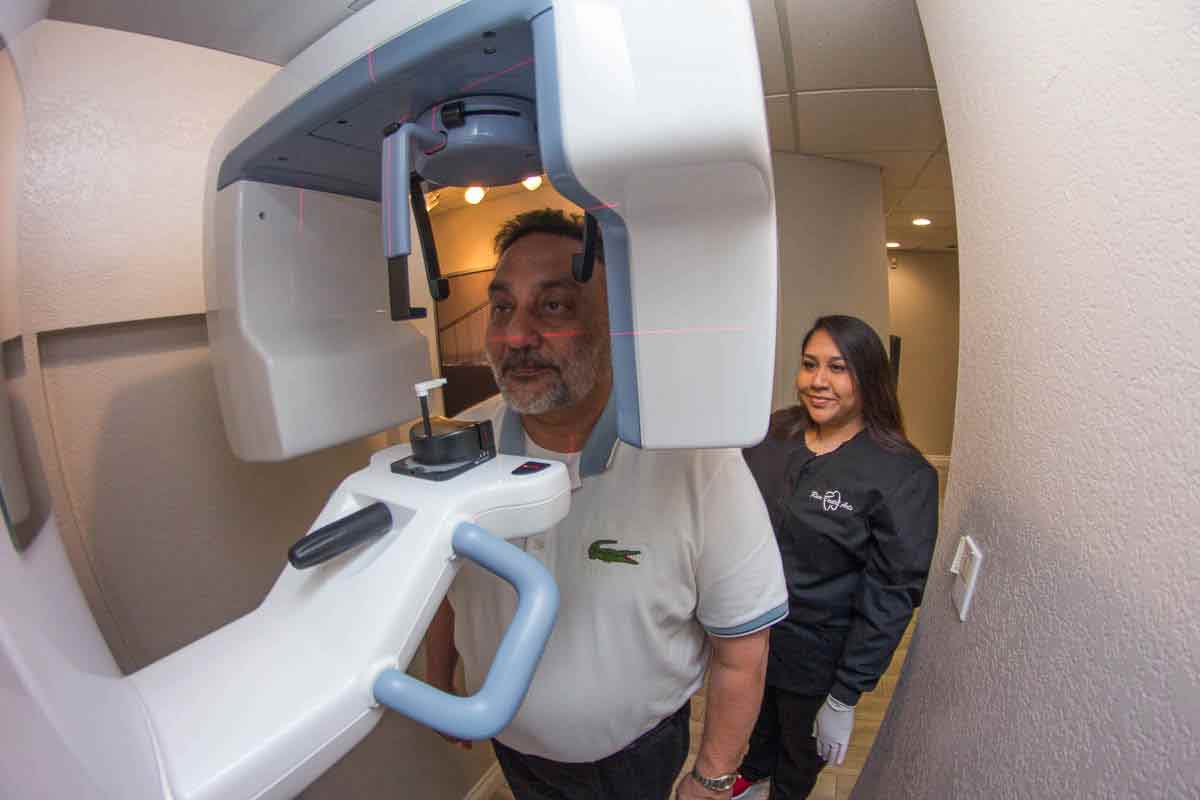 Health Risks of Tooth Loss
YOUR NEW SMILE FOR A LIFETIME
---
When you experience missing one or more teeth, uneven pressure can be placed on existing teeth and gums or cause these teeth to move or shift in place, which can make cleaning them difficult and can increase chances of developing gum disease. Bone loss or shrinkage may occur in the jaw, and a change in your existing bite may obstruct everything from how you eat to how you speak. The skin around your mouth may begin to sag, and your face shape may change, giving you an aged appearance. At Riar Dental, our highly trained team of dentists can help you regain your healthy appearance and the full function of a set of strong, natural looking teeth.
What Type Of Denture Is Right For Me?
MODERN DENTURES WITH DENTAL IMPLANTS VS. PARTIAL DENTURES
---
No matter your age or dental health condition our team can help you find a denture that works. Our partial denture can replace one or more missing teeth when some healthy teeth remain. In cases where a whole new row of teeth are needed complete dentures can effectively replace a full set of teeth. If you have one or more missing teeth and are hoping to reclaim your smile and confidence give us a call for a consultation.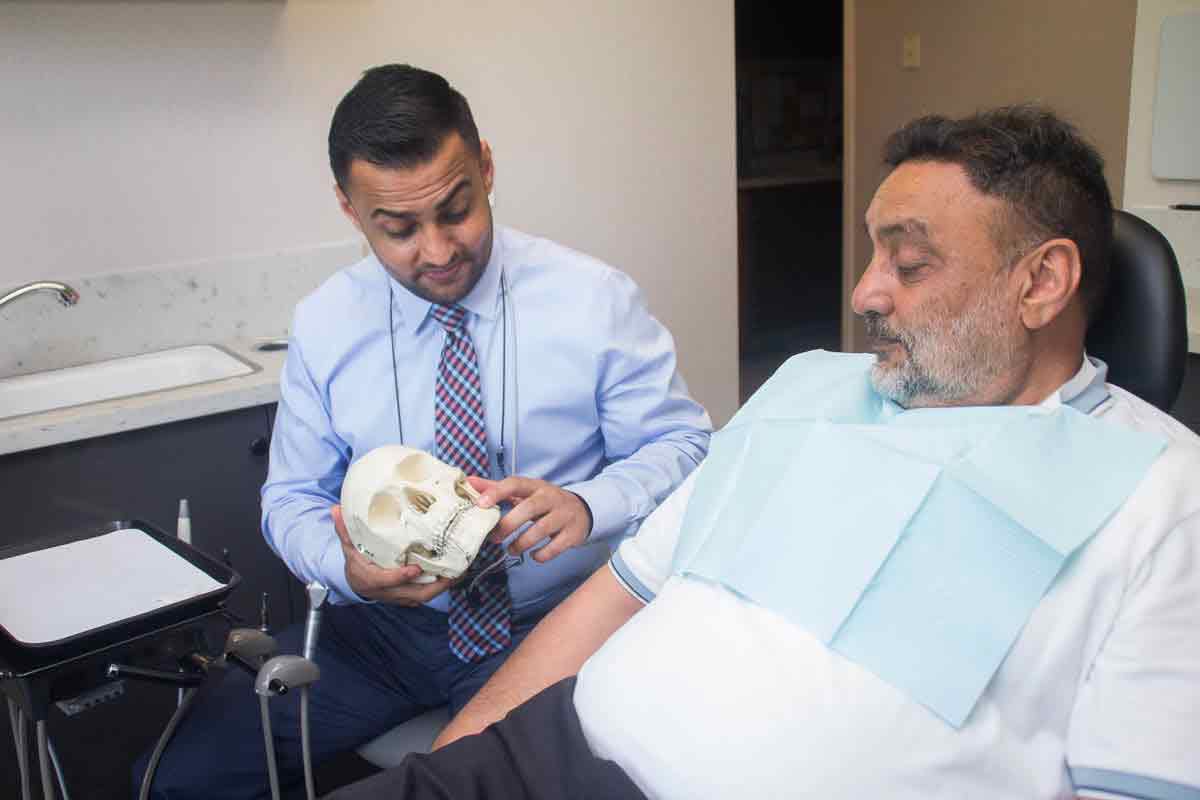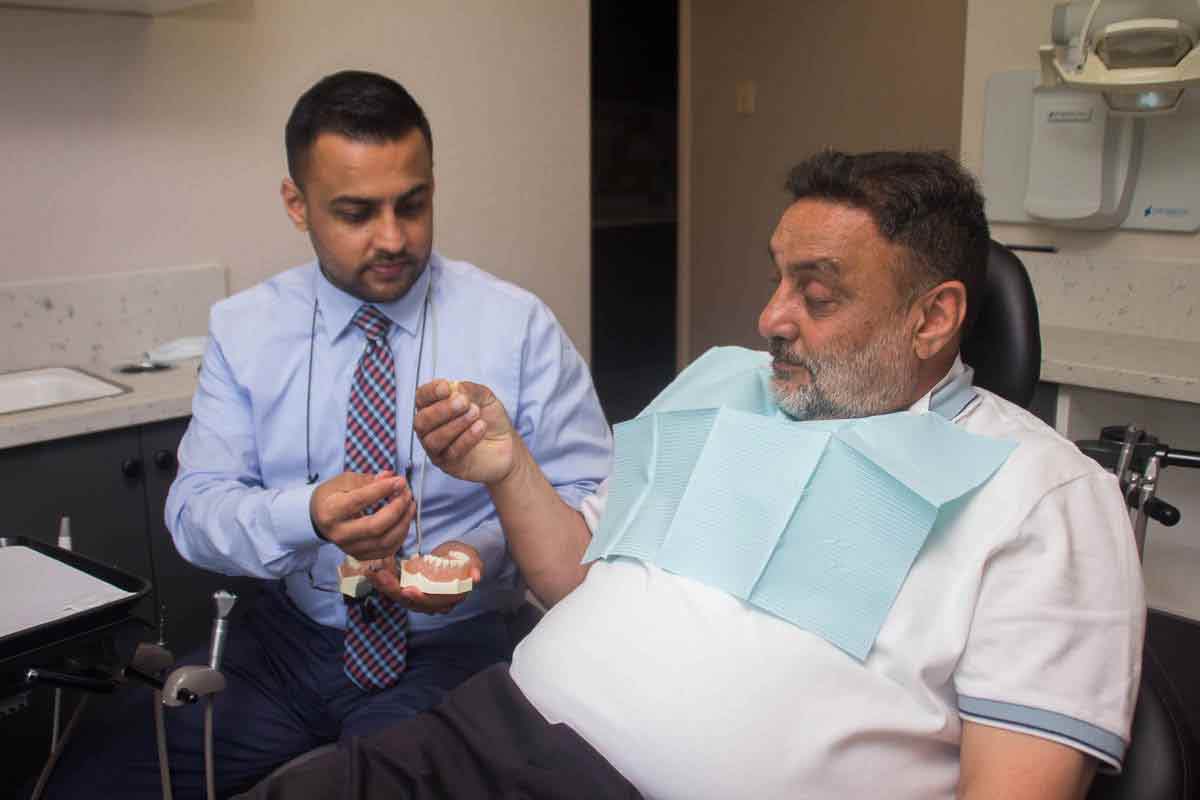 Implant Supported Dentures
PERMANENT DENTURES YOU'LL THINK ARE REAL TEETH
---
When you hear the word "denture," you think, "Who, me?!" Fortunately, implant supported dentures can feel just like regular healthy teeth. Anchored into the jaw bone with a strong titanium they provide a strong foundation and won't fall out, shift, or slip around in your mouth. Unlike removable dentures, they stimulate and support the jaw bone, reducing chances of bone loss that typically results from missing one or more teeth. Because of their strong composition and reliable fit, taking proper care of these dentures can ensure that they last a lifetime.
What Are The Best Type Of Dentures?
In terms of stability, snap-in dentures are the best. These dentures securely snap into place with the aid of anchors on existing teeth or dental implants. These dentures are suitable for a patient without any teeth, but who has enough bone tissue to support an implant.
Can Dentures Become Loose?
Dentures are an economical way to restore the upper, lower, or both arches of teeth. But, over time, many patients find that their dentures tend to become loose, or even fall out of their mouths entirely.