Why Do My Gums Bleed When Brushing?
Riar Dental Arts
Call to schedule an appointment with Dr. Riar. He has studied with the best around the world and bringing it home to Bakersfield.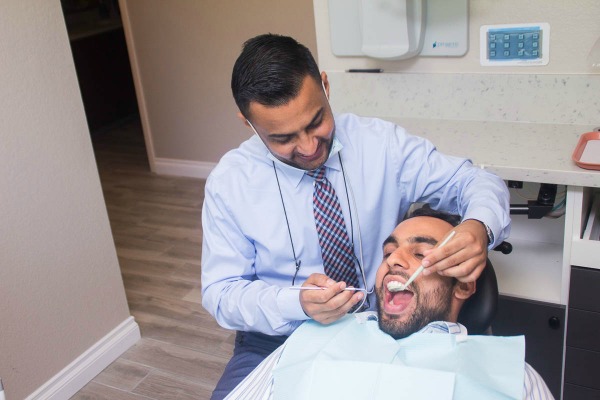 If the only time you attempt to floss is right before your visit to the dentist, you may have noticed redness or bleeding in your smile. It can be concerning to notice gums that bleed when brushing or flossing. But what does it mean, and should you worry about gums that bleed?
Bleeding Gums Are NOT Normal
Although it's not uncommon for patients to have seen their gums bleed from time to time, bleeding gums are not normal. The itchy, red or swollen symptoms can be bothersome or become chronic over time. When harmful plaque and dental calculus harden into tartar on the teeth, a condition known as gingivitis or gum disease can form. This irritating inflammation can lead to tooth decay, mouth pain or gums that bleed when brushing. In its advanced form, gum disease develops into periodontitis, a destructive dental condition where the help of your local dentist is strongly advised.
Gum Health Linked To Overall Health
Research has shown a strong link between gum disease and the development of other health conditions, such as poor cardiovascular health, stroke, Alzheimer's, and issues linked to preterm birth and low birth weight. Your systemic health may be deeply affected by poor or neglected dental health, where inflammation in the gums can develop into inflammation throughout the body related to chronic health conditions. Don't let a small dental issue become a concern of your overall health–schedule regular checkups to the dentist and remember to maintain a good dental hygiene routine.
Symptoms Of Gum Disease
As your local dentist in Bakersfield, Riar Dental is committed to performing gentle dental treatments to protect and support your smile. Give us a call if you think you have one or more of the following symptoms of gum disease:
Red, swollen or tender gums that may bleed after brushing
Teeth that appear longer as gums recede or move away
Chronic bad breath or bad taste in the mouth
Loose teeth, or visible pus forming around the teeth and gums
Gums that feel itchy, painful or irritated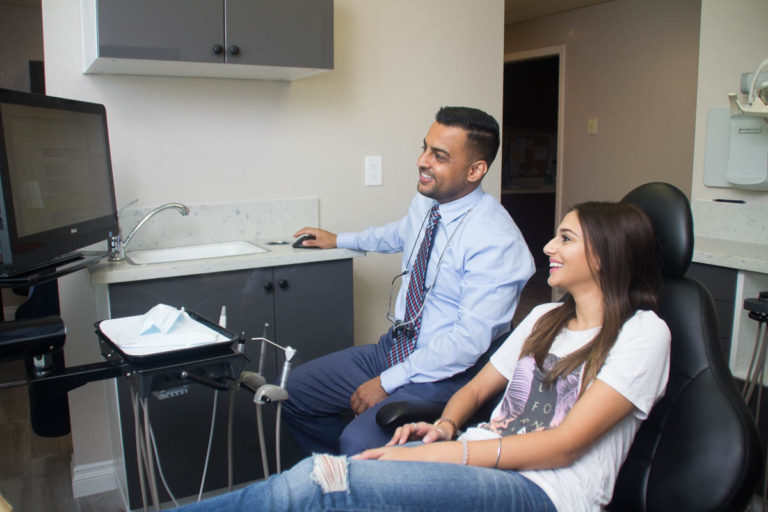 How To Stop Bleeding Gums
It can feel intimidating to go to the dentist, especially if you've noticed a change in your dental health. But when small dental issues go untreated, larger (or more costly) dental problems may develop. If you have noticed reddened gums, a loose tooth or tooth sensitivity, come see your local dentist in Bakersfield, where we deliver gentle dental treatments to protect your smile.
With a focus on preventive dentistry, we'll partner with you to find the best ways to maintain good dental health both at the dentist and at home. Below are few ways you can reduce your risks of developing gum disease and encourage good oral health.
Improve Your Dental Hygiene Routine: Unfortunately, some smiles are more prone to tooth decay and gum disease than others. To protect your smile and dental health, remember to brush with a fluoridated toothpaste twice a day and floss at least once daily. To maintain your dental health year-round, visit your dentist every six months for a regular checkup.
Relax: Stress plays such a large role in our overall health, and our oral health is no exception. If you have been feeling stressed lately you may be putting your immune system at risk. When your immune system is weakened, your body is more naturally prone to inflammation throughout the body and is less able to fight off harmful plaque and infection. To improve your dental health, keep up a good dental hygiene routine and remember to give yourself a break from stress from time to time.
Invest In A Soft Bristle Toothbrush: It may seem unusual at first to hear that you may be brushing too hard. Yet coarse brushing can leave you with worn enamel and painful gums. Invest in a soft-bristle brush and remember to floss gently to promote better dental health.
Reduce Problematic Habits: Gum disease is contagious, and if you're sharing your toothbrush or even water bottles, your dental health could be affected. Reduce your risks for gum disease by limiting poor dental hygiene habits including smoking and consuming alcohol, and maintain a good dental hygiene routine.
Eat Healthy: Sugary foods such as sweets and sodas won't do anything to help your teeth stay healthy. To support better dental health and stop gums from bleeding, incorporate healthier and more nutritious foods such as vegetables and fruits to give your smiles a healthy boost.
Confident Smiles At Riar Dental In Bakersfield
As your local family and cosmetic dentist, Dr. Riar is confident that many dental issues can be solved using simple preventive dental care. If you or a loved one has noticed teeth sensitivity, reddened gums or gums that bleed when brushing, give us a call at (661) 832-1877 to schedule an appointment at our local office.
Home: RiarDental.com
See our Patient Reviews
A PROMISE FROM
Dr. Riar 
"Patient-Focused Community"
"As a Bakersfield native, I consider it a great privilege to be able to come home and care for the oral health of all my friends, family and neighbors. Growing up in a tight-knit community like Bakersfield has taught me the importance of quality care and a friendly demeanor. I work diligently to make sure that I uphold the values and ethics instilled in me by all my teachers from Sing Lum Elementary, Lakeside Middle, and Stockdale High School to provide dentistry that is gentle and builds pleasant long-lasting relationships."